We are the lightweight heavyweight.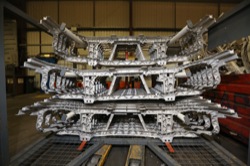 Meridian is the leading full service supplier of innovative magnesium die cast components and assemblies in the global automotive market.
World's largest producer of magnesium components
Die casting magnesium since 1981
1600 dedicated employees
58 total die cast machines from 420 to 4400 tons
22 die cast machines over 2500 tons
Over 450,000 ft² of manufacturing space
Over 40,000 net metric tons of product shipped annually
Many secondary machining, coating, and assembly capabilities that add value to our client partnerships
Global Manufacturing and Customer Service Footprint
Our strategic global presence enables us to service the international needs of our automotive clients quickly and efficiently.
4 North American manufacturing sites
1 European Manufacturing Site
1 Asian manufacturing site
3 International sales offices