The Magnesium Advantage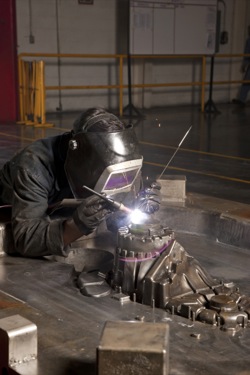 At 1.8g/cm3 magnesium is the lightest of all structural materials, the 8th most abundant element on earth and 100% recyclable. It delivers:
The best strength-to-weight ratio of any commonly used structural metal.
Excellent dimensional stability as well as high impact and dent resistance.
Exceptional dampening capacity and low inertia making it ideally suited for parts that undergo frequent and sudden changes in motion direction.
The newer high purity alloys can deliver better corrosion resistance than carbon, steel and some aluminum alloys.
Other key advantages include:
Thin-walled die casting means structures can be made as one piece rather than assembled from several components. This simplifies design, lowers assembly costs, improves reliability, minimizes tooling costs and reduces joints, fasteners and welds.
Consistent and predictable shrink rates mean minimal distortion or casting stress.
Low heat content means less energy is required to reach casting temperatures and castings cool quicker so cycle times are faster.
Lower temperatures and low affinity for iron reduce the effects of thermal fatigue and erosion on dies so they last longer.
Have a question? Ask an engineer