Magnesium vs. Steel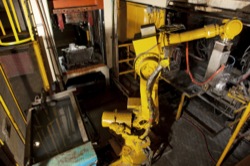 As standards for greater fuel economy tighten and automobile designs become more complex, steel simply can't deliver on higher performance expectations. Light weight magnesium requires far less energy during the entire die cast production process and designs can be far more elaborate without sacrificing strength. Tolerances are tighter and the fit and finish in the final product is vastly superior. The advantages magnesium offers over steel include:
75% lighter than steel.
Complicated thin-walled near net shape casting that would be impossible to achieve using steel.
Consolidation of individual components into a single die cast magnesium part, which improves rigidity while reducing welding costs and assembly time associated with steel.
Tooling costs are significantly reduced due to consolidation of multiple parts into a single part.
Lower working temperature reduces energy consumption during production and extends die life.
Superior dimensional stability and repeatability.
Have a question? Ask an engineer